Sarah Guilliot
Sales page DONE in as little as two hours of your time
Sales Page Design and CopyLanding PagesEmail CopywritingCourse LaunchLaunch Marketing Copy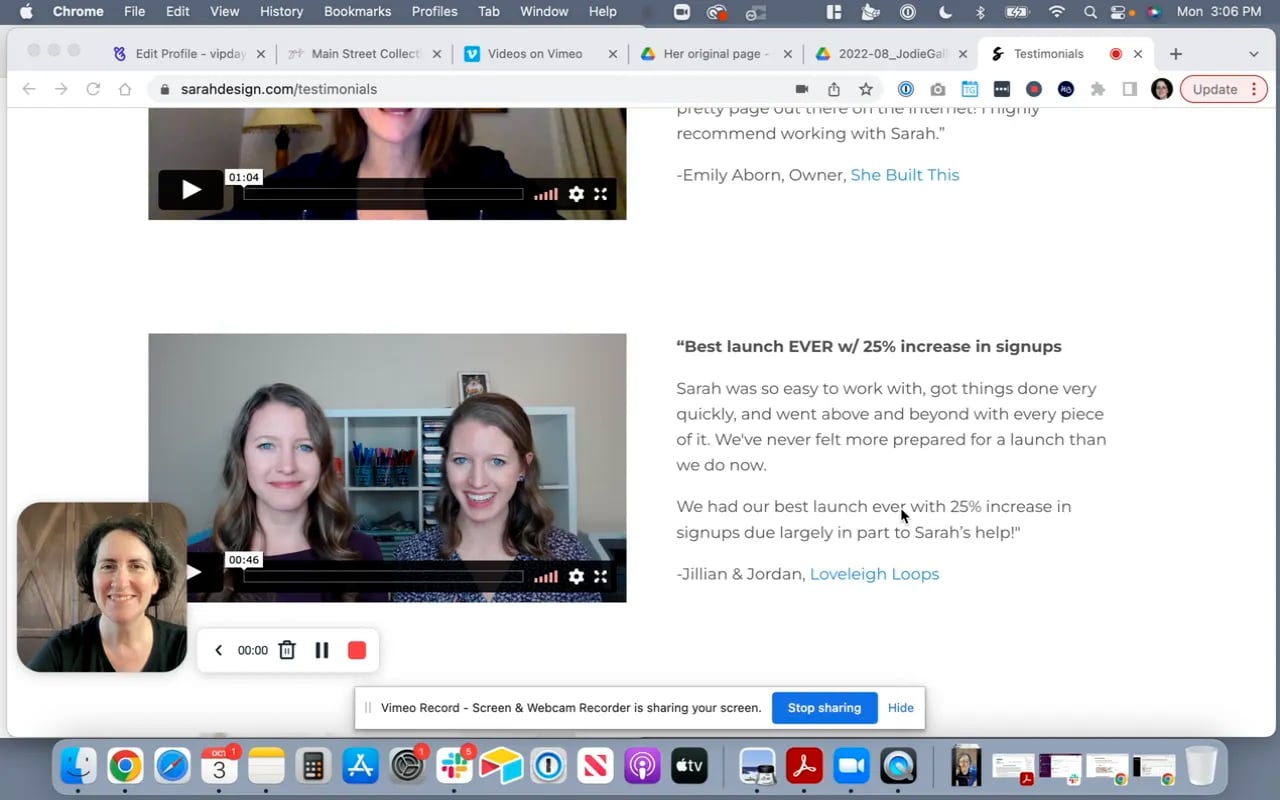 Bio
LANDING / SALES PAGE COPYWRITER & DESIGNER
👩🏻‍💻 Hey, I'm Sarah! I've crafted hundreds of high-converting sales pages for $MM campaigns at Microsoft, T-Mobile, and GoDaddy, and now I want to do the same for you!
♥️ For years I ran a side hustle helping female entrepreneurs look good online. After two decades in corporate, and a big health scare (I'll save that story for another day), I quit my job so that I could help solopreneur coaches and service providers like YOU, full-time.
🌟 Now I'm bringing all my experience in design, copy, UX, and launches to the table to help you step fully into your role as CEO and own your time again!
👩🏻‍💻 I'll help you launch with confidence through Crystal clear design and conversational copywriting that converts! (Ooh, alliteration! LOL)
My VIP Day Services
Design (w/ existing branding) or Copywriting for one sales page, incorporating your unique "voice" which is captured from a strategy call and researching your existing content.
Copywriting Day Includes:
✅ Deep Dive Strategy Call
✅ Google Copy Doc
✅ Wireframe for layout ideas
Build Day Includes:
✅ New Build or
✅ Edit Existing Build
(Squarespace & Kajabi)
Minimum two days required if you need both of the above services.
All Include:
20+ years experience in sales Copy & Design delivered with empathy and caring for a super supportive experience 💜
TIME REQUIRED FOR YOU?
🎉Just 2 short zoom calls. Easy peasy!🎉
—————————
❤️PERFECT FOR:
Business coaches and online educators launching an online course, group program or membership.
❤️WHY CHOOSE ME?
Since I come from a design background originally, I bring unique perspective to your copy by visualizing how it can be laid out on the final page. I include this wireframe along with your copy deliverable…this means super easy execution for you/your designer!
Frequently Asked Questions
❤️ COPYWRITING + WIREFRAME
Since I come from a design background, I write your copy with the end result in mind, and give you a wireframe along with your copywriting doc. This makes it a snap for you to build!
❤️ Sales Page Build
Since I come from a design and user experience background, I know all the tips and tricks for laying out your content and branded graphics for best chances for a sale! There are common sales page design/function mistakes that can hurt your conversions and I know how to avoid these.
DELIVERABLES
What I can deliver in a day depends on your unique needs so we can assess this on our initial call together.
Typically I can write a medium length sales page in a day or build (with existing content) one in a day.
However, if you need BOTH copywriting and a page build, or your page is longer, more days will be needed.
NOTE: I don't offer branding services, but can work with your existing brand graphics and images and offer light Canva graphic creation as needed.
First we'll have a "fit" call to make sure I can help, and I'll give you access to a Google drive folder to gather any assets or copy needed. Then it's a super easy 3-step process...
✅ STEP ONE 1-2 hr strategy/kickoff call to review your pre-work and get clear on all your needs and goals.
✅ STEP TWO I craft your high-converting sales page copy and/or build your page!
✅ STEP THREE VIP DAY! 1-2 hour "reveal" call where we edit your page LIVE, together, then I package it for next day delivery.
*There is no further work done after that day.
⭐️⭐️⭐️⭐️⭐️
"THE ENTIRE PROCESS WAS SMOOTH AND SO EASY!"
"I loved how quickly my sales page was up and running. It's a huge relief to know that it's done when there are so many things on the launch to-do list. Being able to share all the info with you that you needed and then let you work your magic was amazing!"
—Courtney Ibinger, www.courtneyibinger.com
⭐️⭐️⭐️⭐️⭐️
"SARAH SWOOPED IN AND TOTALLY SAVED OUR BACON!"
"With so many things going on behind the scenes of our business, my team and I just didn't have the bandwidth to be building out our sales page in time for the launch.
Sarah swooped in and totally saved our bacon, not only saving us HOURS of work, but also using her impressive knowledge of online sales & launching best practices to make some super important design decisions--things we honestly might have overlooked in our hustle!
Being able to check off this huge to-do in literally one day was a huge weight lifted off our shoulders, and gave us room to focus on other important things leading up to our launch!"
—Paige Brunton, www.paigebrunton.com
⭐️⭐️⭐️⭐️⭐️
"ALWAYS GO WITH SARAH!"
"If Sarah Guilliot is available, ALWAYS GO WITH SARAH - SHE'S BLOWING MY FREAKIN' MIND! Her ideas, how she brings us through the process, and how EASY it has been. I can confidently say she's all that and a bag of chips."
—Jessica Rodriguez, www.freedomdrivensuccess
⭐️⭐️⭐️⭐️⭐️
"THE WORLD-CLASS SALES PAGE SHE MADE WAS PERFECT"
"I had thought we understood our ideal client, but we really hadn't gotten near to the granularity we needed - and the world-class sales page she made for us was perfect. I'd recommend Sarah to anyone ready to take their business to the next level."
—Rob DuBois, www.impactactual.com
❤️ PERFECT FOR:
Female business coaches and online educators launching an online course, group program or membership.
Reach out if you're...
✅ A verbal processor who needs to "talk it out" with a writer
✅ Getting low conversions or attracting the wrong people
✅ A big fan of shorter "to-the-point" sales pages
✅ Craving copy that sells through hope, not suffering
✅ Seeking a strategic-minded, trustworthy copywriter
✅ Set with a designer, but need the words!
Explore my personal network of
vip

days providers.